Join Top Organizations in Recognizing your

Administrative Professional's

Contributions.



The Administrative Profession's Highest Honor.
Submit your Admin Awards Nomination Here.
Top executives across the globe know how critical and invaluable their right-hand administrative partners are, and that is especially true today. For a decade now, top Leaders have trusted the Admin Awards to provide a meaningful recognition program for the backbones of their organizations, Executive Assistant, Administrative Assistants, Office Managers, etc.
Becoming nationally known as the Academy Awards for Admins', winning one of the nine iconic Admin Awards is considered the Administrative Profession's highest honor and is currently available in nine markets across the U.S. to organizations of every size and industry.

The program's most prestigious award, the Colleen Barrett Award for Administrative Excellence celebrates the professional who best embodies the "spirit" and proficiency of one of the most admired (former) admin, Colleen Barrett, Legal Secretary turned President and COO of Southwest Airlines during her five-decade career at Southwest. Colleen personally selects the Finalists and Winners of the Award that bears her name.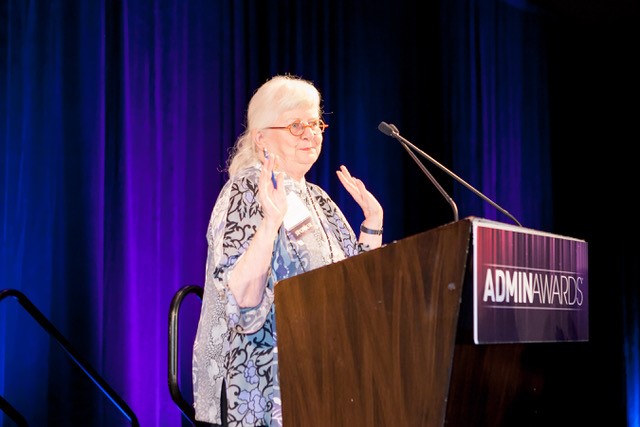 Colleen Barrett, Legal Secretary to Herb Kelleher, Southwest Airlines, rose to President & COO of SWA during her five-decade career.
Thanks to our National Sponsors Southwest Airlines and Robert Half, it is completely free to nominate.
Once you submit the information your Nominee will instantly be notified that they've been nominated for an Admin Award and by whom. We will also follow up with you on how to log into our system to complete your nomination. Be sure to check your junk folder. For questions email [email protected] or call 972-498-1755


AWARD PROGRAM DATES & DEADLINES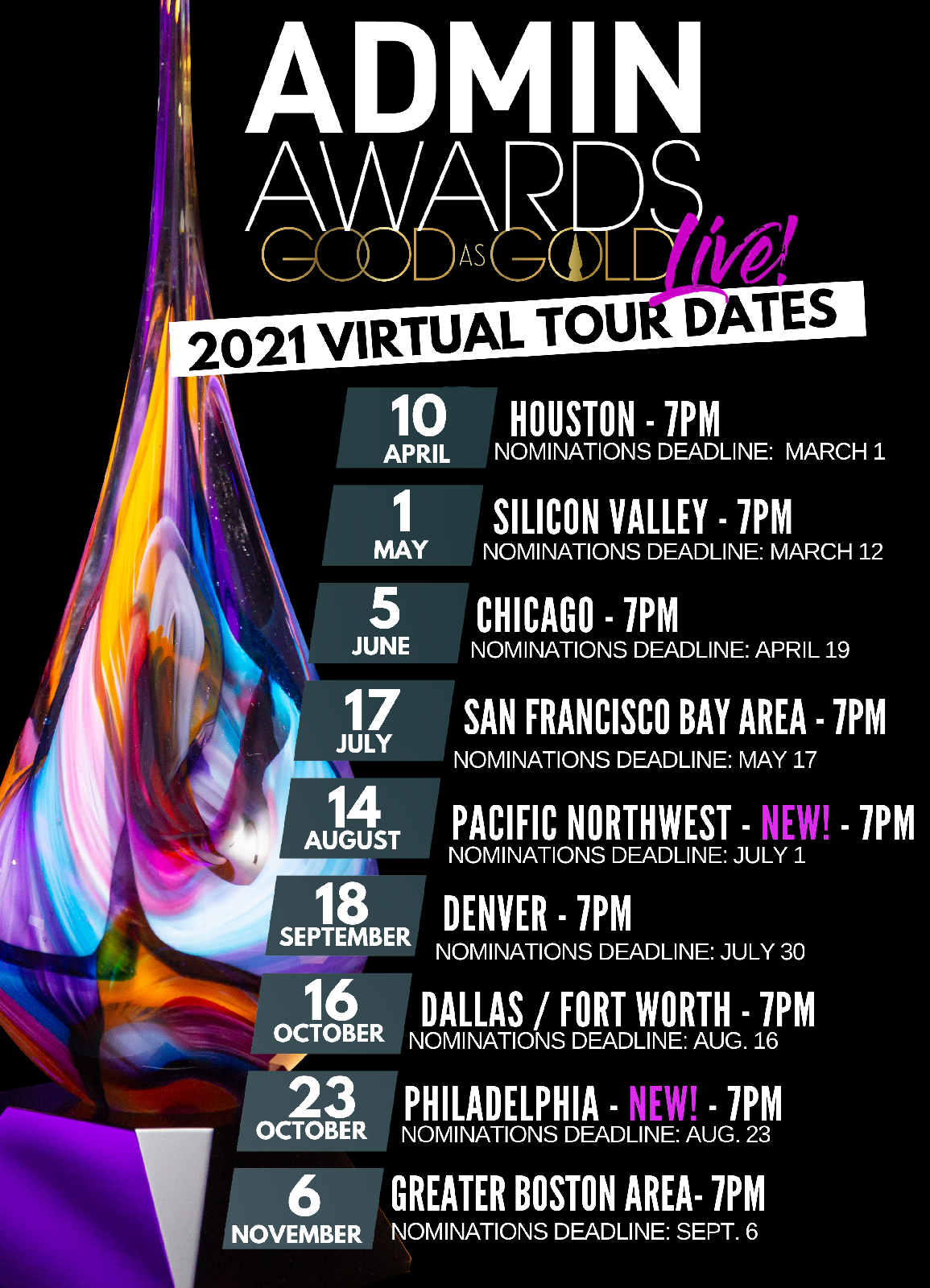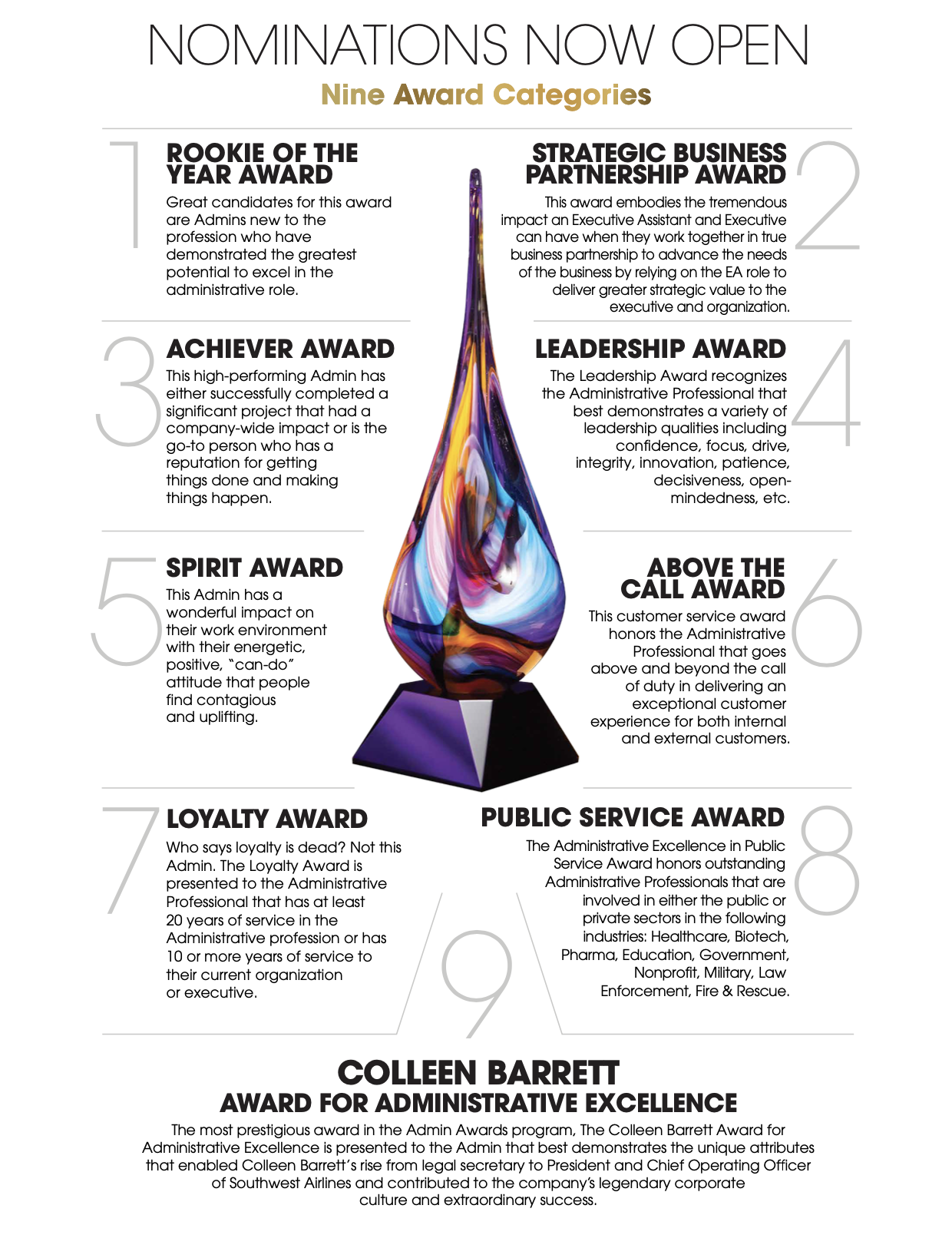 In the can-do spirit of the Admins we honor, we created Admin Awards LIVE! in 2020 and 2021 to safely deliver our iconic Admin Award experience through a live webcast to the homes and workplaces of our Finalists, their Leaders, their families and co-workers at Watch Parties across each city.

Though it is not yet possible to be together, attendees feel excited, inspired and unified through shared experiences of excellent food and beverages, Good as Gold contests, extraordinary prize drawings and specially curated Watch Party Fun packs for every ticket holder.
Finalists and our nine Award Winners are the stars of the show and featured on the webcast, many from their homes surrounded by enthusiastic family members. Each iconic glass award was safely delivered to the surprised winner live, "Publisher's Clearing House" style by our Street Team.
What Our Guests are Saying
Carey Carlock
CEO
Riveredge Hospital
"The communication and tremendous professionalism were both apparent and impressive. So very worthwhile! High energy, high class, tons of fun and most importantly a beautiful celebration of our most valuable assets, our beloved EAs."
Keith Krach
Former Chairman
DocuSign
"The Admin Awards concept is brilliant, absolutely brilliant! A huge congratulations to you and your team!"
Kathleen Earley
Executive Administrator to the President & CFO
Salesforce
"My journey to winning the Colleen Barrett Award last year began with a nomination from my wonderful boss, Mark Hawkins. I was floored that he nominated me, but had only a vague idea of what was in store. The Gala was a magical evening filled with excitement, fun and emotion...Winning the Colleen Barrett Award for Administrative Excellence is the Hallmark of my career."

"This is the Academy Awards for Admins"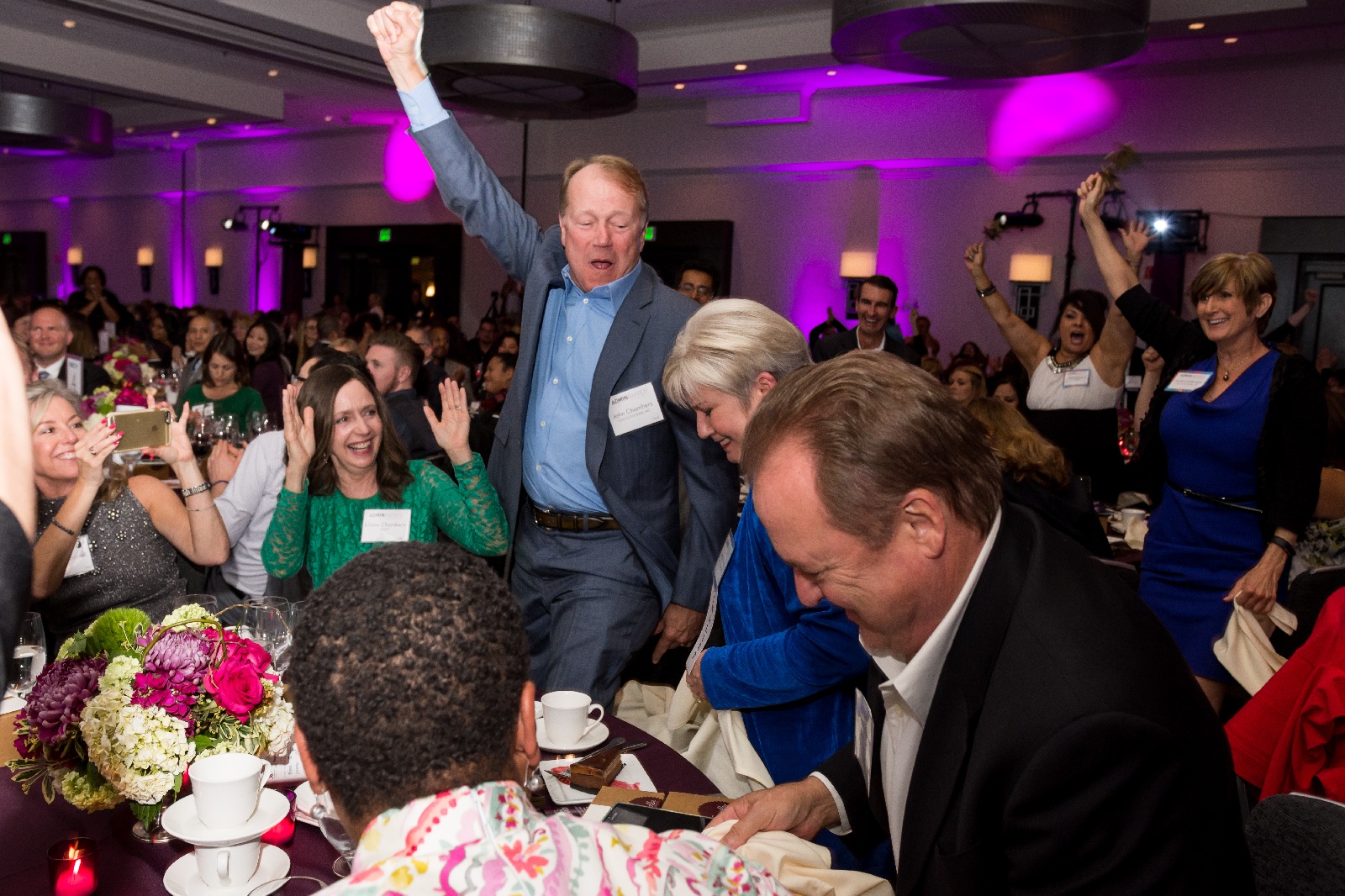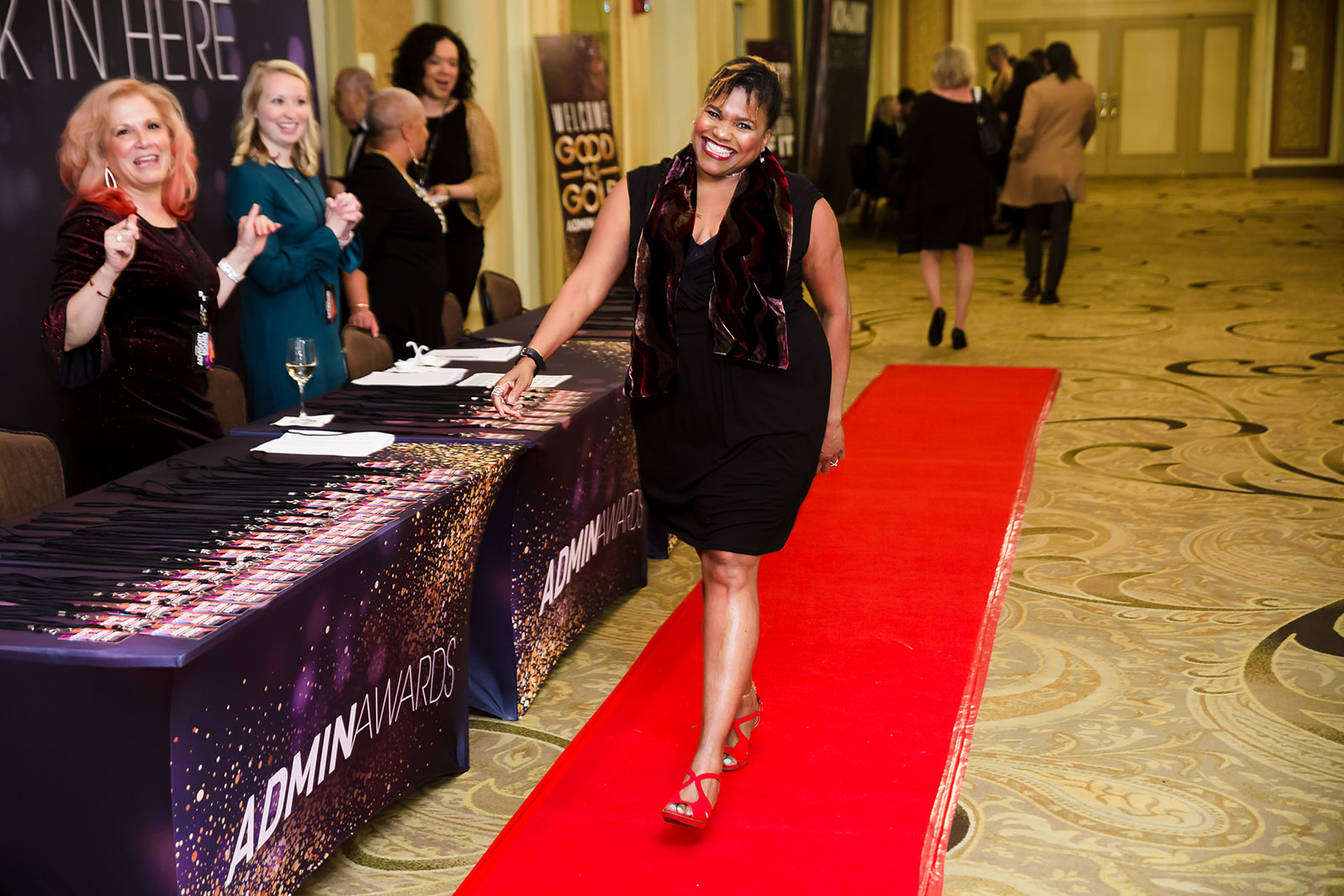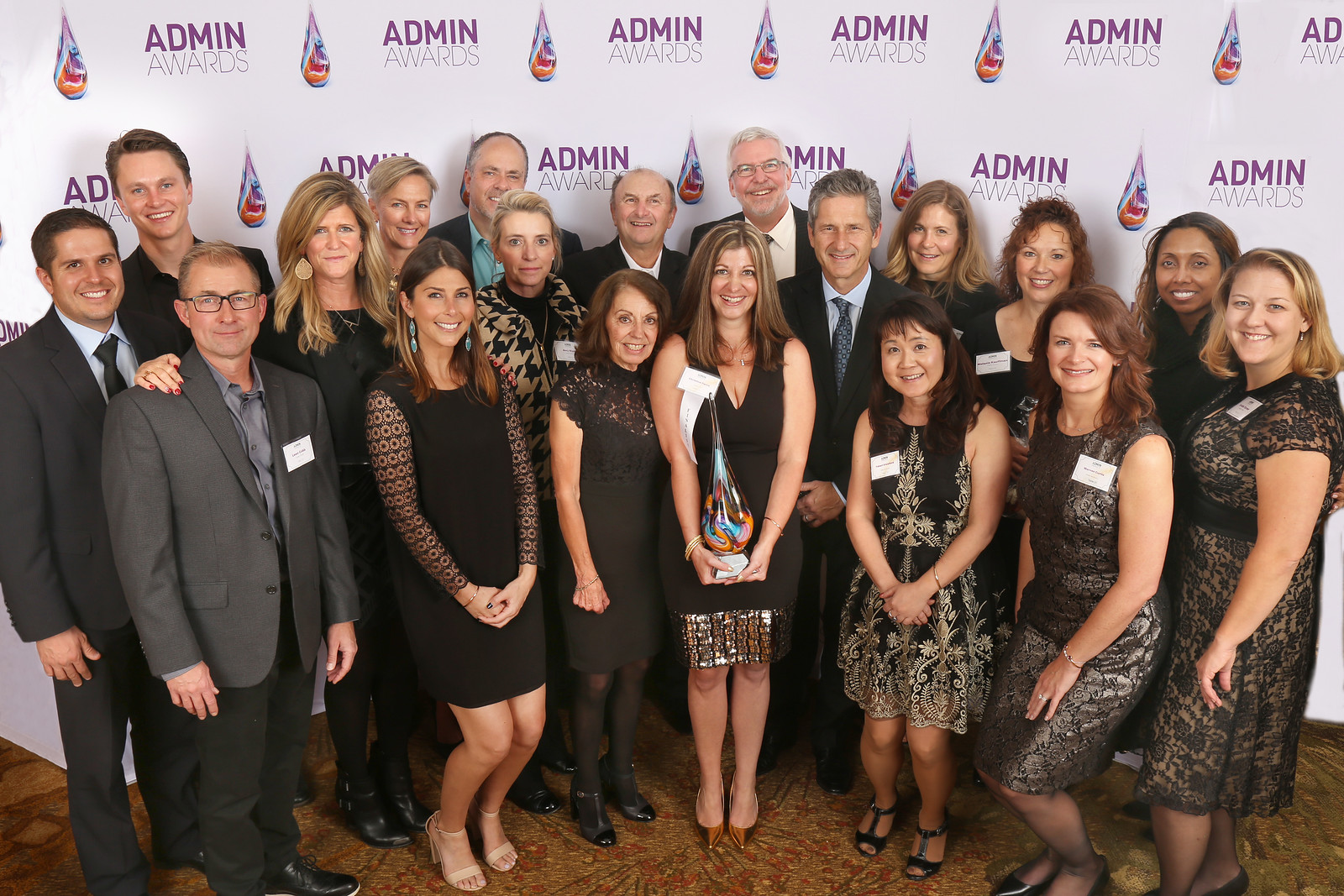 Copyright © 2021. All rights reserved.